Create the Masterpiece* you were born to create... before it's too late
*A Masterpiece is breakthrough innovation in the form of an initiative, business, book or relationship that brings your Purpose to life and helps you create the life you always dreamed of. It is the greatest contribution you can make to yourself, your family, your community and society.
If the temperature keeps rising, your lifestyle will change
My 6 year old daughter, Sasha, told me recently her favourite season is winter, because she loves skiing. If we continue on the same trajectory, by 2050, she won't be able to ski in Europe. There won't be any snow left at skiing altitudes.
What will you miss most as the climate changes? Air travel, eating meat, driving, skiing, your freedom... If you're anything like me, this can feel overwhelming. It's easier to deny it than accept it. It's easier to feel helpless than take action.
But I realized there is something I can do for myself and my children. I can create the life I dreamed of... before it's too late. And that starts with me helping you to create your own Masterpiece - a breakthrough initiative, business, book or relationship that changes your world for good. Would you like to know how?
Free yourself to bring the Masterpiece you were born to create to life:
Articulate your Purpose (WHY you are here)
Identify your Masterpiece (WHAT you were born to create)
Establish your Legacy (HOW you will be remembered)
Develop a 30 Year | 3 Year | 300 Day | 100-Day Plan (WHEN you will do what)
A unique one-on-one Program
Learn from my experience of painting in extreme locations and helping hundreds of Changemakers all over the world. You will:
Discover how to be creative everywhere - not just when the sun is out - but, also when it snows, rains or the wind blows;

Overcome any blocks around money and love;

Learn from wisdom cultures thousands of years old;

Rebalance yourself using a set of unique tools;

Step into an entirely different world for good.
Articulate your Purpose

Create Your Masterpiece

Unleash your creativity
Step into a different world

Step into a different world
1

Articulate Your Personal Purpose

I will help you to articulate your Personal Purpose. Your Purpose is an articulation of your essence, your spirit, your soul. What you call it doesn't matter. What matters is this is the source of your peace and happiness. It is the fil rouge (or red thread) that connects the highs and lows in your life. It has always been. Articulating it helps you make sense of your life. In the second half of this session, I will help you to remove the main self-limiting belief (around love or money) that has stopped you from bringing your Purpose to life previously.

2

Define your Masterpiece

I will help you to define the Masterpiece you were born to create. You are an artist. Your art may be to create a program, a product, a business or a new relationship... it could also be a painting, a sculpture or a book. Deep down, you have always dreamed of doing this. It is what wants to emerge through you. I will help you to get in touch with this deeper part of yourself and articulate what it is.

3

Establish Your Legacy

I will help you to establish your Legacy - how you will be remembered at the end of your life. Part of you wants to go out into the world and put your mark on the world, or a dent in the universe. Another part of you wants to stay at home and experience unconditional love. These two parts of your life may be in conflict. I will help you to rebalance them. I will also help you to understand how your wealth and your health support these first two dimensions.

4

Develop your 100-Day Plan

In the final session, I will help you to develop a 30 Year | 3 Year | 300 Day | 100 Day Plan. This will give you a roadmap to develop unstoppable momentum and ensure you bring your Masterpiece to life so you realise your Personal Purpose and leave the Legacy you intend to leave.
My purpose is to free the world's creativity for good. I paint in extreme locations all over the world to explore what it takes to be creative everywhere.
Each experience whether it be Mont Blanc, Mount Fuji, or the Russian Caucasus leads to a feeling of oneness with nature, even when it is snowing, stormy or windy. The environment appears to help: as soon as I stop resisting it and starts integrating the wind or snow into the painting, I step into another world where everything is in flow. With my partners, I use these insights to elevate changemakers and their organizations to create the Masterpiece they were born to create.
I published my first book #Balance in 2018 and am a bestselling author. I founded The (artist) inside, am a partner of Ashoka, a founding facilitator of Scotland's first Business Decelerator on the Isle of Bute, a Master Trainer at the Entrepreneur's Institute, the largest community of entrepreneurs in the world. I live in Switzerland with my beautiful wife and two wonderful children, Sasha and Daniel.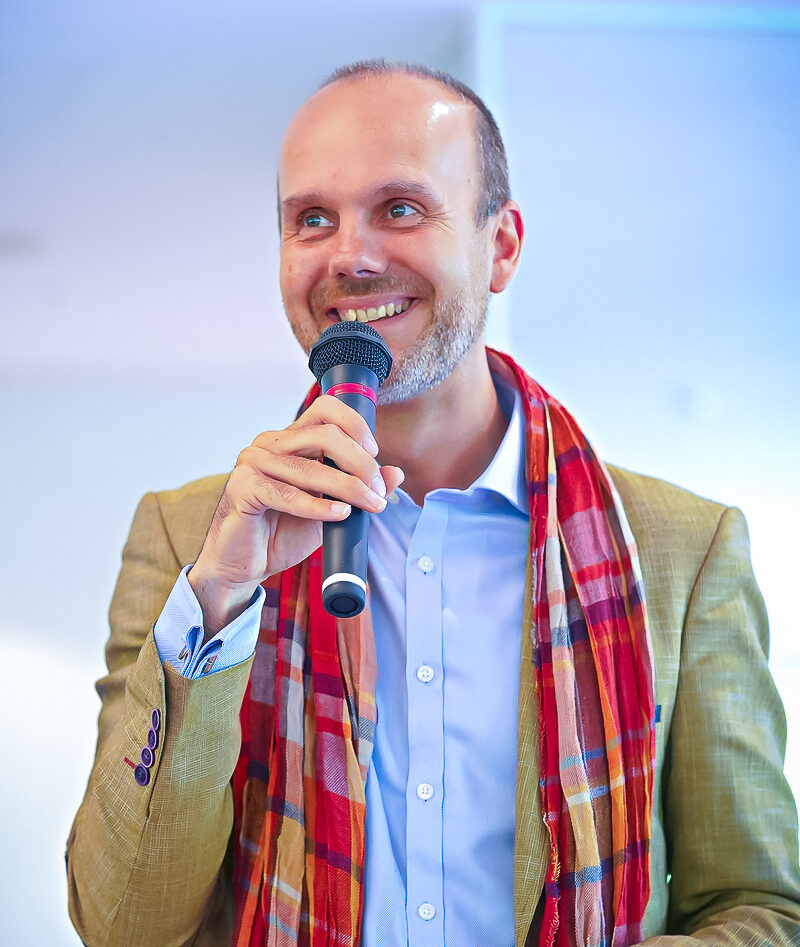 What Other People Are Saying About This Program
Alexander helped me uncover my "real self". Thanks to this unique approach, I rediscovered the artist within me and have, as a result, become happier and healthier every day

Gianpaolo Turri | President | Adamant Namiki
These tools helped me to transform my life... moving from Director of one communications agency to founder and Managing Director of another. 

Mark Harrison | CEO of Cheetham Bell | WPP
Alexander delivers solid and near-immediate results that can enable breakthroughs for individuals fortunate enough to spend time with him. He inspires with authenticity and challenges by example. His body of work is rapidly becoming a new way of thinking that I believe could transform at scale the way we approach, and leverage creativity, innovation, and relationships.

Joe Leenhouts-Martin | Senior Director | Johnson & Johnson Global Public Health
Many people are facing a crisis of purpose. They're seeking new ways to leave a meaningful and conscious legacy. Alexander explores the traps that individuals and the businesses they create, can fall into -- and ways to consciously step-up the game through increased inner awareness and a conscious effort to balance inner life with outer actions.

Debra Moffitt | Owner of Divinely Inspired Living Media | Award-winning author
With Alexander's guidance, I had my team work on finding their life's purpose, sharing them with one another was one of the most meaningful team exercises I have ever done, it allowed us to understand each other's passions and unite our energy to create a new team purpose that everyone sees themselves in. Now people respect one another more, bring their best selves to work, and are determined to reach our full potential to make our company a force for good.

Nate Hurst | Chief Sustainability & Social Impact Officer | HP Inc.
This program is for Changemakers - entrepreneurs, intrapreneurs and artists - who feel called to make a difference in their world. It is for tomorrow's leaders, for everyone who are ready to free themselves of their self-limiting beliefs and who have the courage to create the Masterpiece they were born to create.
4x 90 minute sessions over 6 weeks.
4x 90 minute sessions over 6 weeks plus complimentary access to the 3-day Legacy Retreat  including coaching, accommodation in a chateau, food AND the 6-month Purpose Mastermind.
Book a call to see if there is a fit.