Bring the Masterpiece you were born to create to life
23-26 April 2020 | Domaine de La Garde | near Bourg-en-Bresse
Would you like to bring the Masterpiece you were born to create to life?
Would you like to discover who you and what you really do with your life?
Would you like to leave a legacy for your children or grandchildren to remember you by?
You are an artist. We all are. Maybe not the one that creates paintings or sculptures, composes music or writes books.
Maybe your art is uniting people behind a greater purpose or developing sustainable solutions to address humanity's greatest challenges such as climate change or inequality or simply being the best husband, wife, father or mother you can be.
Whatever your legacy, we need you to join the global choir. Are you a bass, a tenor, an alto or a soprano? Without your voice, the rest of us are missing out.
To rebalance the planet, we must first rebalance ourselves.
Bring the Masterpiece you were born to create to life.
My legacy is awakening the artist inside you. It is how I would like my children, friends and society to remember me when I am no longer physically here.
It is my personal purpose - free the world's creativity to accelerate sustainable creation - expressed in the world outside me. The problem is the majority of what we create is based on the principle of wealth creation rather than sustainable creation - what the ego wants rather than what the essence needs.
Thus, the purpose of my art - painting in extreme locations, giving keynote talks, running workshops and retreats like The Legacy Workshop - is to wake up the Creator within us, the artist inside, so you create the Masterpiece and Legacy you were born to create. 
My legacy is to make space for us to become ourselves.  Trained as an economist, I have led teams in international organisations and created my own for-profit companies and non-profit initiatives.  I have lived in a variety of countries and cultures.  
This has stimulated my curiosity and my joy to connect with others and with myself. Most importantly, it has helped me in my quest for developing my inner freedom, leading a value-driven life and my ability to love.  
Now I thoroughly enjoy animating our cultural center at the Domaine de La Garde.
Discover your vision for life

Unleash your creativity

Define your Artist Profile

Define your Masterpiece

Find Inner Balance

Articulate Your Legacy
Your Creative Engine

Tap into the same creative force as Steve Jobs or Elon Musk.

Your Personal Purpose

Become the change you want to see in the world.

Your Legacy

Allow what really inspires you to emerge.

Your Masterpiece

Generate sustainable value from your idea.

Your Sources of Energy

Develop an actionable plan to realize your idea.

Your Artist Profile

Use your gifts to help the planet for good.
1

Define Your Personal Purpose

Companies have a vision that explains why they do what they do. Individuals have a vision too. It's just most of us aren't aware of it. We call it a personal Purpose. Before the workshop starts, you'll have access to a podcast, which guides you through a journey to help you define it. And then, we'll speak for 30 minute to help you articulate it and define your expectations for the workshop. If you've already articulated your Personal Purpose in a previous program, we'll still have the call to explore how you've started to implement it in your life.

2

Free your Creativity

Everything we create is an expression of Purpose. How clear it is depends on the work we've done to free ourself from limiting beliefs and create a mindset to bring it to life. To help, we'll introduce the Inner | Outer Game model and help you remove the blocks that stop you. In addition, we'll use art in the form of a collaborative painting and music to get ourselves out of our heads and into our essence. This is what psychologists calls a state of flow, athletes call the zone and we call balance.

3

Articulate your Legacy

We will then explore your Legacy - what would you like it to be - and what will it end up being if you continue along the same trajectory. Your Legacy combines everything you think, say and do. You cannot not create a legacy, you can only choose to consciously create it. We'll combine Your Personal Purpose and the techniques we learned from the Inner | Outer Game model to explore how to rebalance every aspect of your life: your worklife, your lovelife, your health and your wealth. We'll also explore how you can bridge the gap between your intended legacy and what you are currently creating.

4

Define your Masterpiece

We will then help you define your next Masterpiece and the Value Proposition to bring it to life. Legacies that are remembered start with a Masterpiece. A Masterpiece is a project, initiative or experiment that is an expression of your Personal Purpose and a stepping stone towards your Legacy. It could be a painting or a book, an event or a company, or a project that serves a greater purpose. Defining the Value Proposition for your target audience help you to turn it from a dream into reality. Your Masterpiece will help others grow. It will serve them. And by serving them it serves you.

5

Your Artist Profile

Each of us creates differently based on our experience and expertise. We have a different combination of strengths or what I call our Artist Profile. Some of us create the ideas. Some of us create the community. Others create the systems that enable us to scale; and yet, others develop the business model so we generate income that enables us to do more in the future. These are the four Artist Profiles the Creator, the Collaborator, the Choreographer, and the Calculator. Each creates differently. You can find balance in each of these forms of creation.

6

100-Day Plan

In the final part of the workshop, we'll identify a series of actions you can take to generate momentum around the idea and turn it from a dream into reality. We'll step out into the future to understand what your Legacy looks like at the end of your life and then bring it back to what you do pragmatically in the next 100 days to bring your Legacy to life now. We'll also explore what the implications are for each aspect of your life (Impact, Love, Health and Wealth) and how you can continue to bridge the gap between your intentions and reality.
Three-day retreat to rebalance and transform your life
Define your Purpose, Legacy, Artist Profile and Masterpiece
One 30 minute call beforehand
+ bonuses: see below
These tools helped me to transform my life... moving from Director of one communications agency to CEO of another.

Mark Harrison, CEO, CheethamBell JWT
Alex has a knack for bringing the best out of people.

Heath Arensen, CEO, Tanasuk
Alex delivers solid and near-immediate results that can enable breakthroughs- for organizations but also individuals fortunate enough to spend time with him. He inspires with authenticity and challenges by example. His body of work is rapidly becoming a new way of thinking that I believe could transform at scale the way we approach, and leverage creativity, innovation, and relationships.

Joseph Leenhouts-Martin, Senior Director, Johnson & Johnson Global Public Health
With Alex's guidance, I had my team work on finding their life's purpose, sharing them with one another was one of the most meaningful team exercises I have ever done, it allowed us to understand each other's passions and unite our energy to create a new team purpose that everyone sees themselves in.

Nate Hurst, Chief Sustainability Officer, HP Inc.
Alex is an outstanding coach, with a gift for sharing his insights into increasing personal creativity. His ability to build trust ensures clients feel comfortable to move from achieving their goals to building on their dreams.

Michelle Barker, Program Director, James Cook University
The course is perfect to stimulate thoughts and really pushed me to take a step back and try to find and understand my life purpose.

Pavla Foley
This program is for leaders who feel called to make a difference in their world. It is for executives, entrepreneurs, artists and tomorrow's leaders. It is for everyone who wants to free themselves and realize their full potential. It is for those who want to escape the dreaded Monday morning feeling forever. And the great thing is… it only takes a long weekend.
The only way to do great work is to love what you do.

Steve Jobs
Find a job that you love and never work another day in your life.

Confucius
Take a job that you love.

Warren Buffett
The simple fact is that if you don't enjoy what you're doing and the people with whom you're doing it, then there is no possible way that you are going to do it as well as something you do enjoy.

Richard Branson
Frequently Asked Questions
Do I need to do any preparation in advance?

There is a small amount of pre-work – one 15 minute podcast and one 30 minute call. No other preparation is required. It's always useful to consider what you would like to get out of any course. Consider what your idea or project is in advance. Do you have a specific area in mind or something you would like to focus on? We can also help you develop the idea during the course.

What if I am already very creative, will this course help me?

Yes, absolutely. The course is designed to start wherever you are and take you to the next level in terms of developing your Masterpiece and realizing your Personal Purpose.

Is this course for me as I am already working on my Legacy?

Yes. Everyone is working on their legacy all the time. This course will help you get clearer about what you intend it to be and how to bridge the gap between that and what it could turn out to be.
Cost for three-day retreat including accommodation in Chateau and food:
Price €2,500.

The Venue | Domaine de La Garde
Five years ago, Friedrich and Margareta von Kirchbach fell in love with, and acquired, the Domaine de La Garde in Bourg-en-Bresse.  It is surrounded by 40 hectares of park, meadows and forest, and yet only 10 bicycle minutes away from the city centre of Bourg-en-Bresse.  Friedrich and Margareta have made it their home and use it as a non-commercial platform for cultural initiatives and retreats.  Completely renovated it offers a beautiful space to come to the essential.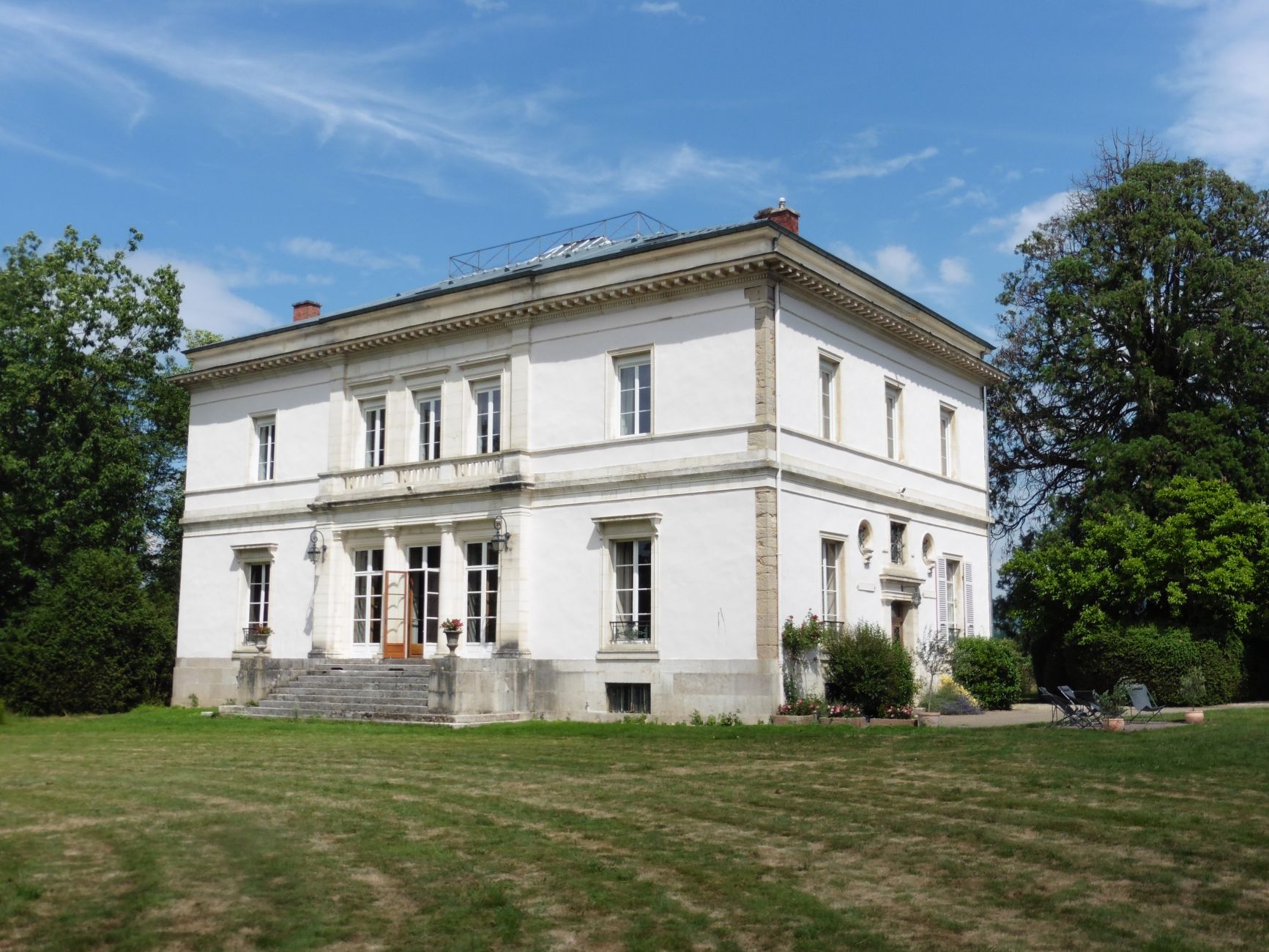 6 months access to The Purpose Mastermind
One 90-minute group call every month
Share updates, ask questions, tackle challenges
Sustain momentum and ensure accountability
Ask questions via WhatsApp / Messenger group