Create the Masterpiece* you were born to create...
*A Masterpiece is breakthrough innovation in the form of an initiative, business, book or relationship that changes your world for good. It is the greatest contribution you can make to yourself, your family, your community and society.
Change your world for good
The last few months have been extraordinary: more than a quarter of the world's countries have joined race protests; over 400,000 people have died from Covid-19; and May was the joint hottest on record.
And we're not even half-way through the year yet!
Would you like to create a different world?
Would you like to love what you do?
Would you like to help your children and the world's children pursue what they love?
The problem is too few of us love what we do. This is the source of the imbalance we see in the world today.
Imagine living in a world in which you love what you do and are inspired by what everyone else is doing.
Imagine you love who you wake up with, look at your agenda and love what you see every day - the meetings, events, calls; and loving the uncertainty of not knowing quite what magic is going to occur, but knowing it will happen.
Imagine you love yourself so much you spend more time with your family, live where you love and enable your children or the world's children to pursue what they love too.
This is the world we are creating. In this world, inequality in all its forms and climate change dissolve as a global problem.
No, this isn't a dream. And it starts by creating your Masterpiece.
Free yourself to bring the Masterpiece you were born to create to life:
Articulate your Purpose (WHY you are here)
Identify your Masterpiece (WHAT you were born to create)
Remove self-limiting beliefs (WHAT has stopped you in the past)
Establish your Legacy (HOW you will be remembered)
Develop a 3 Year | 300 Day | 100-Day Plan (WHEN you will do what)
A unique one-on-one Program
Learn from my experience of painting in extreme locations and helping thousands of Changemakers all over the world.
Articulate your Purpose

Create Your Masterpiece

Unleash your creativity
Create your Legacy

Step into a different world
1

Articulate Your Personal Purpose

In the first session, I will help you to articulate your Personal Purpose. Your Purpose is an articulation of your essence, your spirit, your soul. What you call it doesn't matter. What matters is this is the source of your peace and happiness. It is the fil rouge (or red thread) that connects the highs and lows in your life. It has always been. Articulating it helps you make sense of your life. In the second half of this session, I will help you to remove the main self-limiting belief (by changing your relationship to money, power, love and time) that has stopped you from bringing your Purpose to life previously.

2

Establish Your Legacy

In the second session, I will help you to establish your Legacy. It combines everything you think, say and do. You cannot not create a legacy, you can only choose to consciously create one starting now. We will help you to understand the gap between the Legacy you intend to leave and the one you will leave if you continue along the same trajectory. All great Legacies start with a Masterpiece: Michelangelo started with the statue of David, which showed the divinity in humanity; Nelson Mandela's started with The Truth and Reconciliation Committee, which prevented civil war; and Steve Jobs started with the Apple Mac, which transformed how we create and communicate. You may say you're not Michelangelo or Nelson or Steve. You are just as unique as them though.

3

Define your Masterpiece

In the third session, I will help you to define the Masterpiece you were born to create. You are an artist. Your Masterpiece is a breakthrough for you. It may be a business, an initiative, a book, a relationship or a piece of art. It is the greatest contribution you can make to yourself, your family and society. Deep down, you have always dreamed of doing this. It is what wants to emerge through you. Bringing it to life is the fastest way to accelerate your journey. To define your next Masterpiece, I will help you tap into what psychologist, Carl Jung, called the Collective Unconscious and others call the Unified Field or Akashic Records.

4

Develop your 100-Day Plan

In the final session, I will help you to develop a 3 Year | 300 Day | 100 Day Plan. This will give you a roadmap to develop unstoppable momentum and ensure you bring your Masterpiece to life so you realise your Personal Purpose and leave the Legacy you intend to leave. Throughout the program, I will help you to remove the self-limiting beliefs that have stopped you from bringing your Masterpiece to life previously.
My purpose is to free the world's creativity for good. I paint in extreme locations all over the world to explore what it takes to be creative everywhere.
Each experience whether it be Mont Blanc, Mount Fuji, or the Russian Caucasus leads to a feeling of oneness with nature, even when it is snowing, stormy or windy. The environment appears to help: as soon as I stop resisting it and starts integrating the wind or snow into the painting, I step into another world where everything is in flow. With my partners, I use these insights to elevate changemakers and their organizations to create the Masterpiece they were born to create.
I published my first book #Balance in 2018 and am a bestselling author. I founded The (artist) inside, am a partner of Ashoka, a founding facilitator of Scotland's first Business Decelerator on the Isle of Bute, a Master Trainer at the Entrepreneur's Institute, the largest community of entrepreneurs in the world. I live in Switzerland with my beautiful wife and two wonderful children, Sasha and Daniel.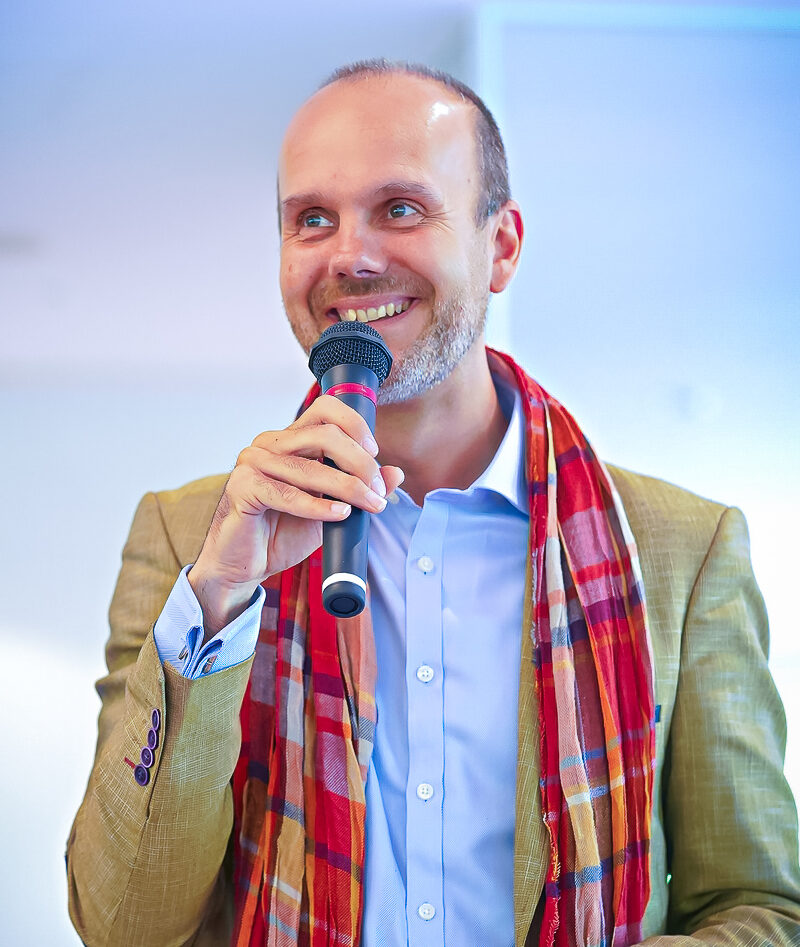 What Other People Are Saying About This Program
This program is for Changemakers - entrepreneurs, intrapreneurs, coaches, consultants and artists - who feel called to make a difference in their world. It is for everyone who is ready to free themselves of their self-limiting beliefs and has the courage to bring their Masterpiece to life.
4x 90 minute sessions over 6 weeks.
Access to background videos from the group program on WorldClass.Academy.
Access to me via WhatsApp for questions throughout the 6 weeks.